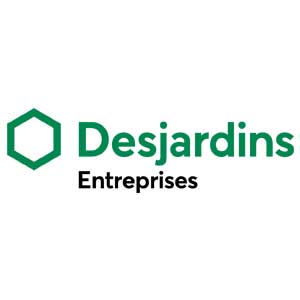 Canada's leading cooperative financial group with more than 7 million members and clients, and over $275 billion in assets under management.
Ranked one of the safest financial institution in North America according to Global Finance.
Ranked 2ndon Corporate Knights' list of 50 Best Corporate Citizens in Canada.
35 Desjardins Business Centers, 1032 points of services and a network of over 2000 ATMs.
Desjardins Private Management, awarded Best Private Wealth Management Company in Canada (2017) by the esteemed Global Banking and Finance Review.
Leadingcredit card issuer in Quebec and 6th in Canada, with 57,000 merchants.
The second largest property and casualtyinsurer in Quebec, and second largest in Canada with 4.3 million policies in force and over 4.4 billion in gross premiums written.
Leading payroll processing supplier in Quebec and 3rd in Canada for over 26,000 businesses across Canada.
$320million in returns and in community donations and sponsorships.
The only banking institution to offer development capital.