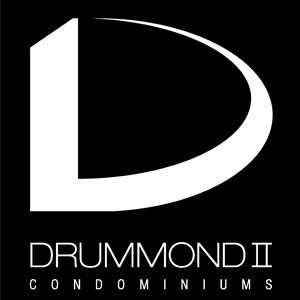 ocated in the heart of downtown Montréal on Drummond Street, Le Drummond Condominiums marries the elegance of modern architecture with the energy of a downtown lifestyle. A state-of-the-art residential high-rise, Le Drummond is exceptionally located, only steps form the finest boutiques, cuisines, museums and nightlife Montréal has to offer.
The sleek exterior of the buildings features an abundance of fenestration and encompasses the essence of modern design while respecting the surrounding architecture. In addition, the hyper-efficient layout of each unit is a staple of Samcon. Further, owner's can personalize their brand-new unit.
The central Cube is a magnificent space located at the junction of both towers and includes a lounge and fully equipped two-level fitness centre. Owner's at Le Drummond will also benefit from a gorgeous rooftop experience. Boasting panoramic views of Mount-Royal and downtown, it is replete with a saline pool, deck, lounge area, and dining space. This is your very own urban oasis.
[siteorigin_widget_vc so_widget_data="{"widget_class":"SiteOrigin_Widget_Button_Widget","widget_data":{"text":"Official website","url":"https:\\/\\/www.samcon.ca\\/condos\\/drummond-ii\\/196-description.html","new_window":true,"button_icon":{"icon_selected":"","icon_color":false,"icon":0,"icon_placement":"left","so_field_container_state":"open"},"design":{"width":false,"width_unit":"px","align":"center","theme":"atom","button_color":false,"text_color":false,"hover":true,"font":"default","font_size":"1","rounding":"0.25","padding":"1","so_field_container_state":"closed"},"attributes":{"id":"","classes":"","title":"","onclick":"","rel":"","so_field_container_state":"closed"},"_sow_form_id":"18815857235b97d4cbe07c1475697954","_sow_form_timestamp":"1536677133933"}}"]