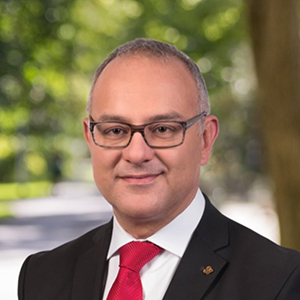 Mr. Aref Salem
REM Leader official opposition and Montreal city councillor
Aref Salem has been Leader of Ensemble Montréal since November 2021 and City Councillor for the Norman – McLaren district in the borough of Saint-Laurent since 2009. He immigrated to Canada after fleeing the war in Lebanon, 31 years ago on his birthday. He was drawn into politics by his desire to give back to the city and the citizens who welcomed him, and to improve their quality of life. Over the years, he has been Executive Committee member responsible for transportation and vice-chair of the standing committee on transportation and public works. He has also served on several boards of directors such as BIXI Montréal and Stationnement Montréal, as well as being councillor associate for culture, heritage and design and for communities of diverse origins. Among his major accomplishments are the implementation of "Taxis Bonjour" and the rescue of BIXI when the organization was in financial difficulty.
His approach, in politics as in everyday life, is human-centred. His vision of Montréal is that of a forward-thinking, proactive, caring city in which the voices of all citizens are heard and represented.