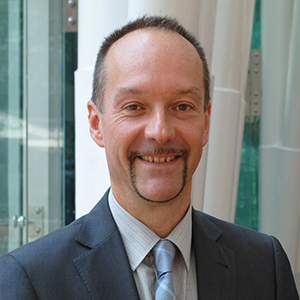 Mr. Denis Andlauer
Director of Operations of CDPQ Infra
Denis Andlauer is the Director of Operations for CDPQ Infra, the subsidiary of the Caisse de dépôt et placement du Québec. As such, he is one of the artisans at the heart of the REM project, the Réseau Express Métropolitain.
Mr. Andlauer graduated from the École nationale supérieure des Arts et Métier in Paris in 1993 and holds a university certificate in corporate governance from Laval University. He began his career at SNCF in the maintenance of TGVs. He led the maintenance and operations of the Lyon subway. In 2002, he became the RTC's maintenance director in Quebec City, then took over all RTC operations. In 2009, he was appointed Vice President of Orléans Express Group. He developed urban and school transportation and participated in the creation of Keolis Canada. In January 2012, he was appointed President and CEO of Keolis Canada. In October 2014, when he left Keolis, he founded DA Strategic Consulting and carried out mandates surrounding the review of public transit governance in the Montréal region for several institutional clients. Since 2018 he has also been an independent member of the steering committee of the structuring public transit network of Quebec City.
With more than 35 years of experience in public transit, Mr. Andlauer is a recognized expert in the field for his strategic vision, his understanding of the industry and its challenges. He has a strong interest in network planning and integration, intermodality and optimization of resources as well as customer experience.